DBT Quick Reference Guide
DBT requires more up-front service/cost than do other, less effective treatments, but saves up to 50% in treatment costs by the end of one year.
DBT is an effective, efficient treatment that reduces suicide and self-harm behavior across age groups, reduces associated symptoms including substance use disorders, depression, and eating disorders. In addition, it has been shown to decrease ADHD, aggression, and impulsivity in populations not diagnosed with borderline personality disorder.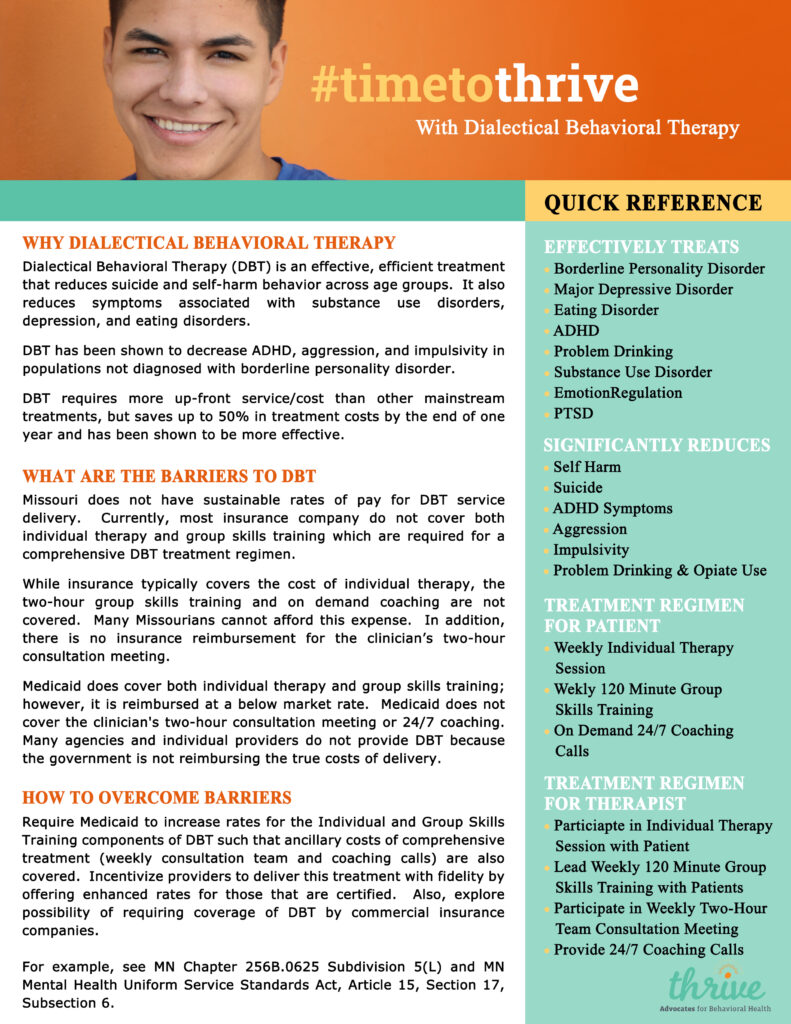 Barriers:
Currently, not all insurance companies cover both individual therapy and group skills training for DBT (required for comprehensive treatment). Many will cover only the costs of individual therapy, and the 2 hour weekly group skills training is an out-of-pocket expense that many clients can not afford.
Medicaid and insurance companies cover DBT-based individual therapy and (maybe) skills training groups at the same rate as general outpatient therapy. This does not cover the costs of treatment delivery (therapists are in a 2 hour weekly consultation team meeting that is not billed, and provide 24/7 coaching calls to clients that are not billed.
Many agencies and individual providers refuse to provide DBT because it is not reimbursed at a rate commensurate with costs of delivery.
The state of Minnesota addressed this issue by requiring providers to meet high standards in delivery of treatment, and by increasing Medicaid rates for the Individual and Group Skills Training components of the treatment such that ancillary costs of the comprehensive treatment are also covered (weekly consultation team and coaching calls). This resulted in an increase in the availability of service to low income individuals in need of the service.
Currently, Missouri does not have sustainable rates of pay for service delivery, and existing DBT programs have long wait-lists for services, where those services exist at all.